The biggest issue the hardwood industry faces is loss in domestic consumption. International hardwood export, Michael Snow, comments on key issues in China, Vietnam from tariffs and trade wars to changing consumption patterns.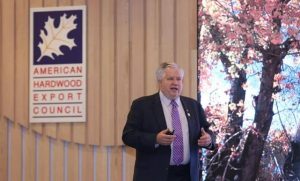 Assuming that Joe Biden is inaugurated as president in January 2021, what would a Biden presidency mean in terms of U.S./China trade relations? How would this be good or even bad for the U.S. hardwood sector?
Snow: I think the short answer is we just don't know. I'm not sure we're going to see any significant changes, at least initially.
China is not close to meeting their obligations under phase one of the trade agreement that was signed in early 2020. They've purchased far less U.S. goods than they agreed to purchase. So, it all depends on how the United States responds. If we reimpose tariffs on Chinese goods, I think we can assume China will reimpose tariffs on U.S. goods, including hardwoods.
A lot has been made in the press about how the China trade war has decimated the U.S. hardwood sector. What else besides tariffs is behind the ups and serious downs of Chinese demand for U.S. hardwoods?
Snow: China's growth is slowing dramatically. China imports from all sources have dropped by almost 30%. We now have a smaller piece of a smaller pie.
The Chinese government is starting to consolidate economic power. State-owned enterprises are being favored, particularly when it comes to credit availability, which is largely determined by the Chinese government. Private companies that bought U.S. hardwood to make flooring, millwork, and other products are being starved for capital.
China's housing market is also changing. There are growing concerns of a housing bubble, and there have been threats of price caps on housing. To keep delivered home prices in check, we are seeing developers finish new construction as inexpensively as possible. Essentially, we're seeing a race to the bottom. Builders and developers are turning to vinyl floors, particle board doors, and other non-wood materials in order to keep costs down.
What can solid hardwoods do to compete against composite and alternative products?
Snow: The biggest issue the hardwood industry faces is loss in domestic consumption. We're not making as much domestic flooring, furniture, cabinets, millwork and so on. If we want to change that, we need to change our domestic consumption habits.
We need to make the most of our environmental credentials. Wood is a renewable natural resource. Add to that the fact that solid wood products sequester carbon, which mitigates climate change. We have a tremendous story to tell.
How do you see foreign demand impact U.S. domestic production for hardwoods over the next five years?
Snow: The U.S. trade representative has launched an investigation of the use of illegal timber in Vietnam, which is the second biggest market for American hardwood after China. The Vietnam government has started a program to ensure that timber is sourced legally. Let's give that initiative a chance to work before we begin to implement policies that could be extremely disruptive and do irreparable harm to a U.S. hardwood industry that already is reeling from the trade war with China.
The post U.S. hardwood sector faces multiple issues appeared first on Timber Industry News.