Trade of roundwood in non-industrial private forests went up in March. However, it was one fifth smaller than the earlier three-year average. In the first quarter of 2020 the total roundwood trade decreased by more than one third. The trade of logs fell by two fifths and the trade of pulpwood by one third.
In March, the average stumpage price for pine logs was EUR 54.8 per cubic metre, and the price for spruce logs was EUR 58.5 per cubic metre. The stumpage price level of logs increased two per cent from February.
The stumpage price for pine pulpwood was EUR 17.5 per cubic metre and the price for spruce pulpwood was EUR 19.3. The price of pine pulpwood went up three per cent from the previous month and spruce pulpwood rose two per cent.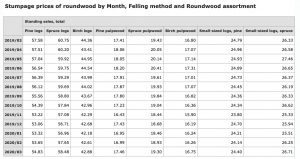 The method of felling affects the stumpage price paid for the wood. The price of logs harvested from regeneration fellings was three per cent higher than the average stumpage price paid for all logs. In thinnings the price of logs was 13 per cent below the average price. In the case of pulpwood, the difference in stumpage price was respectively in regeneration fellings +11 per cent, in thinnings –6 per cent and in first thinnings –28 per cent.
Delivery sales are typically dominated by pulpwood and in March pulpwood assortments accounted for two thirds of the total roundwood trade by delivery sales. The average roadside price for pine pulpwood was EUR 31.9, for spruce pulpwood EUR 33.0 and for birch pulpwood EUR 32.3 per cubic metre. Compared to February, the price of spruce pulpwood increased two per cent and the price of the others one per cent.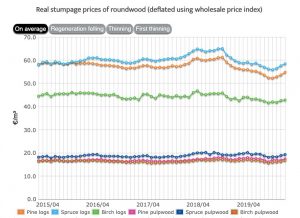 The post Roundwood prices in Finland start to rise in March appeared first on Timber Industry News.