Exports of logs from New Zealand were worth just $96 million in April 2020, down $211 million from $307 million in April 2019.
The quantity of logs exported fell 69%, the biggest-ever monthly percentage fall, the price has risen to $170 a cubic meter this month after falling to $137 in July 2019.
"Log harvesting was a non-essential service under alert level 4 and didn't restart until alert level 3 at the end of April, so it is understandable that log exports have dropped sharply," international statistics manager Darren Allan said. Most New Zealand logs are exported to China.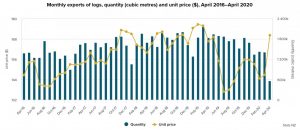 "However, the increase in unit price may suggest there is still unmet demand as log inventories in China are run down and export values may bounce back quickly as harvesting picks up again," Darren Allan said.
The value of sawn timber exports also fell $61 million or 79%, reflecting the log shortage.
The post Prices of exported New Zealand logs rise sharply; low Chinese inventories appeared first on Timber Industry News.