CFR price in China has fallen further to stabilise at 110 USD per JASm3 for New Zealand A grade logs.
This fall in CFR prices combined with the strengthening of the NZD against the USD and adverse ocean freight rates, has resulted in June AWG prices dropping an average of $29 NZD per JASm3 from May pricing, and it is expected AWG prices will fall further again in July.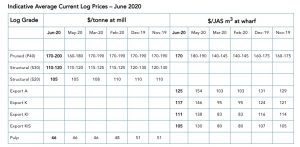 Due to the decreases in export log prices, the PF Olsen Log Price Index decreased $12 in June to $117. The index is currently $7 below the two-year average, $8 below the three-year average, and $5 below the five-year average.
Domestic demand for logs in New Zealand is steady. New Zealand log processors report domestic sales either at or above the same time last year. However, most log processors expect a drop in demand in Quarter 4.
Export sales of New Zealand sawn timber are difficult, except for the higher value clearwood grades which are in high demand.
Export demand for New Zealand logs has not increased at the same pace as global log supply. The
Domestic Log Market
Log Supply and Pricing
There has been sufficent supply for most mills in New Zealand, although mills are now paying closer attention to inventory and keeping low stocks. Prices in some unpruned log grades have dropped $5/t in some regions, but prices for pruned logs have remained stable. Log supply will reduce as smaller forest owners suspend or stop harvesting.
New Zealand sawn timber markets
New Zealand mills report post Covid-19 lockdown domestic sales of sawn timber higher than the same period last year. This is more likely a combination of catch-up orders from the Covid-19 lockdown, and mills benefitting from some supply capacity taken out of the market, rather than an overall increase in demand. The largest recent closure was the CHH Whangarei sawmill in April, while they also reduced production at their LVL plant by 70% to focus on the domestic market.
DIY sales have been strong as people look to replace holidays with home improvements etc. Builders are also probably finishing or correcting many of the DIY projects started during the Covid-19 lockdown. Sales of decking products as an example were high around the lockdown period and mills don't know if these are sales that would have happened next summer or are additional sales. Sawmills forecast that sales of trusses and frames for housing will continue, but that high rise developments will slow down considerably. They expect to see this effect as projects finish and new projects do not start, as banks are reluctant to fund new projects. Some are predicting overall domestic demand to fall by up to 20% in Quarter 4.
Exports sales of clear wood sawn timber has been one shining light for NZ log processers. Mills supplying clearwood for North America and European markets are struggling to keep up with demand. Demand in North America for 8-inch and 10-inch wides was especially strong as buyers realised that British Columbia sawmills that are now permanently closed were heavy producers of wide boards.
The post Prices for New Zealand exported logs to China dropping appeared first on Timber Industry News.