While most construction framing dimension softwood lumber prices stayed flat last week, Plywood and Oriented Strand Board did increase. The early-season storms in the U.S. southeast as well as ongoing wildfires in the U.S. west have propped up demand of wood panel products for rebuilding and reconstruction at a time of year when sawmills are usually reducing production.
Sales of softwood lumber do seem to be slowing down, which is normal for this time of year. As the old adage goes, "Labour Day is the beginning of the end and U.S. Thanksgiving is the end of the end for North American building and construction projects."
The Eastern S-P-F panel market was nonsensical last week according to distributors. With plywood shipping no earlier than the end of November, players were at a loss trying to figure out who would chase the market at historically high prices for winter shipment. In Oriented Strand Board (OSB), there was still no cash wood available for the Toronto market as customers continued to get all their wood from the distribution network.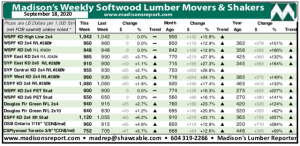 Prices of Oriented Strand Board meanwhile continued to ratchet up, though players had no idea who was buying so far out at currently insane prices. No one in the distribution network was participating, so the assumption was that only retailers were buying, which was a recipe for disaster according to secondaries.
For the week ending September 18, 2020, a big surge in wood panel prices surprised players, with benchmark panel commodity item Oriented Strand Board 7/16" Ontario jumped +$45, or +5 per cent, to C$960 msf compared to the previous week when it was C$915 msf, said Madison's Lumber Reporter. This prices is up an astonishing +$110, or +12 per cent from one month ago, when it was C$850 msf. Compared to mid-September 2019, this price is up an unbelievable +$710, or +284 per cent.
Increasing at a very unusual time of year — when the lumber market normally is experiencing seasonal slow-down — compared to one-year-ago last week's Oriented Strand Board 7/16" Ontario price was +$546, or +132 per cent, relative to the one-year rolling average price of C$414 msf and was up +$608, or +173 per cent, compared to the two-year rolling average prices of C$352 msf.
The below table is a comparison of recent highs, in June 2018, and current September 2020 benchmark dimension Softwood Lumber 2×4 prices compared to historical highs of 2004/05 and compared to recent lows of Sept 2015:
The post North American softwood lumber prices stay flat appeared first on Timber Industry News.