The lack of any strong COVID signal in the tropical timber trade data to the end of March is more obvious from the monthly data. The period of COVID-19 lockdown in Europe began in Italy with an emergency decree on 9th March covering the Lombardy region, Italy's financial and industrial powerhouse. The Spanish government followed with a general confinement order for most of the country from 14th March. Then came lockdowns in France (17th March), Belgium (18th March), and the UK (23rd March).
The German Federal government did not implement a nationwide lockdown in response to Covid-19, but during March state governments across the country progressively tightened restrictions on movement, prohibiting large gatherings, calling on people to stay at home, and asking that they observe other social distancing measures in an effort to stop spread of the virus. However, the German government also stressed the need to keep key sectors of the national economy functioning and issued a decree allowing construction activity to continue.
The Netherlands also stopped short of a complete lockdown. Instead, in a series of measures issued on 12 March, the Dutch government asked that people stay at home as much as possible, banned gatherings except those "necessary to ensure the continued daily operations of institutions, businesses and other organisations", and encouraged other social distancing measures.
In March and April, according to a report by Bollore Logistics, European ports continued to operate despite difficult conditions and containers were being processed for onward movement, although clearances by some customs authorities was slower and there were border bottlenecks. Most shipping companies continued to operate, although they were adding surcharges and available space and equipment had become very restricted.
Chart 6 highlights that while EU27+UK monthly trade was highly volatile in the last quarter of 2019 and first quarter of this year, trade in March was significantly stronger than in February, and not noticeably slower than the same month in the previous year. Imports from Indonesia were particularly strong in March this year, at US$96 million, the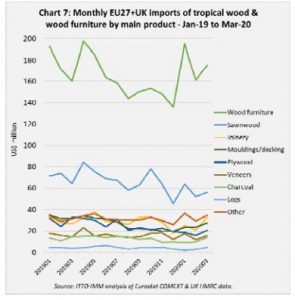 third best monthly import performance from Indonesia in the last 5 years.
Chart 7 shows that EU27+UK imports of all tropical wood and wood furniture products were higher in March than in February this year.
Chart 8 highlights that in March 2020, EU27+UK imports of tropical wood and wood products from Indonesia and India were particularly strong, while imports from most other countries, with the possible exception of Vietnam, were yet to show any signs of weakness brought on by the COVID lockdown measures.
Chart 9 shows that nearly all the major European markets imported more tropical wood and wood furniture products in March this year compared to the previous month. France was the only significant
market to record a decrease, but this followed a strong rise in imports in February.
It would be wrong to read too much into this trade data which only captures the very beginning of the lockdown period. Indices of economic activity in the EU27+UK plunged in April and were only recovering slowly in May as the lockdown was eased in most European countries.
On 6th May, the EC predicted a decline in EU economic activity this year of 7.5%, and slightly more than that for the eurozone. The EC also warned the outcome could be worse if the pandemic turns out to be longer or more severe than currently envisaged.
The EC report outlines sharp falls in hard-hit countries such as Italy, Spain and France — all of which
will see their GDP drop by more than 8% this year. In Greece and Spain, the fall is forecast to be well over 9%. Even in Germany, which has won praise for its handling of the coronavirus crisis, the downturn is expected to 6.5% in 2020.
According to European Commissioner for the Economy, Paolo Gentiloni, "in 2021 we expect a rebound of 6.1% in the EU and 6.3% in the euro area — not enough to fully make up for this year's loss". UK GDP growth this year On 7th May, the Bank of England forecast that UK GDP would fall 14% this year and tentatively predicted a 15% rebound next year if coronavirus restrictions can be lifted without a causing a second wave of the virus.
The post No pandemic impact in March EU tropical timber trade data appeared first on Timber Industry News.