Domestic demand for logs and sawn timber in New Zealand remains strong with many mills operating extra shifts to increase supply. NZ's sawmillers in general are quite optimistic.
CFR sale prices for logs in New Zealand's main log export destination China increased an average of 8 USD per JASm3 over the last month.
However, increased ocean freight costs and the strengthening NZD against the USD meant At Wharf Gate (AWG) log prices received by NZ's forest owners only increased by about 4 NZD per JASm3. As China approaches its peak construction season, log demand is increasing and expected to remain strong until the end of the year.
The PF Olsen Log Price Index increased by $2 in September to $116. The index is currently $7 below the two-year average, $9 below the three-year average, and $7 below the five-year average.
NZ's mills have reported sufficient log supply and have managed to secure additional supply when they have operated additional shifts. Some mills have reported record production days.
Domestic demand in New Zealand for both industrial and structural sawntimber is strong and well ahead of predictions.

NZ's mills report increased sale prices for sawn timber in Asian markets. These increases were agreed relatively quickly by the buyers which is unusual, so this may be an indication wholesaler in China are preparing for a busy construction season.
The export destinations for sawn timber are displayed below. Export sales for the 12 months ended July 2020 were 10% down on the 12-month period ended July 2019.
The value of NZ's log sales to India has dropped 47% for the year ended July 2020 compared to the year ended July 2019. India was struggling with liquidity and banking issues before Covid-19, but the Covid-19 outbreak in India severely restricted production capacity as well as reducing demand.
NZ's quarterly log sales to China are shown in the above chart. Note the reduced average FOB value in Q1 2020 which lifted again for Q2 2020. New Zealand exported more logs in Q2 than in Q1 despite the lockdown covering one week at the end of Q1 (starting March 25th) then most of April in Q2 (lifting April 27th).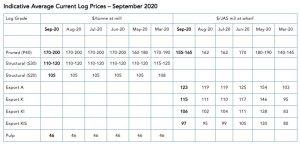 The post New Zealand log exporters optimistic as demand in China is strong appeared first on Timber Industry News.