New MDF investment in Lithuania, and a rice straw MDF plant in the US are now nearing completion. Meanwhile, Russia, Turkey and Mexico still lead the main expansion in MDF capacity in Europe and North America.
In this, the first part of our annual survey of the global MDF manufacturing industry, independent consultant Geoff Rhodes looks at the MDF mills and their capacities in Europe and North America in 2018 and at the prospects for the industry in 2019 and beyond.
Looking at Europe first, 2018 was a positive year for MDF manufacturers and Arauco continued to consolidate its MDF position since entering the European wood based panels market with its operational, and rebranded, MDF facilities in Spain, Portugal and Germany. Raw material supply issues have now been largely resolved.
As in the past, news of all upcoming new European MDF mills are listed in Table 1: European capacity development for 2019 and beyond.
The new capacity announcements include AGT Turkey, with Siempelkamp providing a second MDF line for this company in Antalya (design capacity 300,000m3).
Also included are: the investment by Yildiz Entegre of Turkey overseas in Vladimir, Russia; the proposed Kastamonu Entegre mill in Alabuga, Tatarstan; the Pavlovskiy MDF mill east of the Urals; and Altayles' plans to build a large-scale plant to produce MDF in the Altai Krai region in Russian Siberia, bordering Kazakhstan.
In the Baltic states, Germany's fibreboard maker Homanit has unveiled plans to invest some €115m in constructing a new production facility in Lithuania. The project was recently announced by the country's investment promotion agency 'Invest Lithuania'. Under the plan, the new facility, which is to make MDF/HDF will create 440 jobs. The jobs at the factory, located in the region surrounding Lithuania's capital Vilnius, are to be created in the first five years of the plant's operations. The move is related to the growing demand from local users, who are currently supplied from the output of Homanit's two existing Polish factories located in Karlino and Krosno Odrzanskie, according to senior company representatives.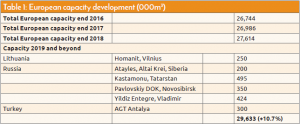 "Transport costs from Poland have been taking their toll on the bottom line for our group manufacturers and our strategicallyplaced new plant will solve this issue," said Andrius Ostrauskas, the chief executive of local subsidiary Homanit Lietuva UA, quoted in a press release.
For 2018 in North America, Weyerhaeuser's acquired MDF facility in Columbia Falls, Montana, so well-known formerly as Plum Creek, and as a quality producer of MDF for so long, has now been fully integrated into the company's portfolio of wood based panel products.
Further takeover news from North America has seen Roseburg Forest Products Inc extending its now significant MDF reach with the completion of the acquisition of Potlach Deltic Corp's 265,000m3 MDF mill at El Dorado, Arkansas. This purchase, alongside the Canadian Pembroke, Ontario MDF mill, with a capacity of 280,000m3, and the world famous Medite MDF mill in Medford, Oregon producing 250,000m3 previously, reveals an interesting geographical spread for this Oregon based company. Roseburg now has a total annual MDF/HDF capacity of close to 800,000m3 with these three plants.
The significant investment by Swiss Krono in its new HDF/MDF plant at its facility in Barnwell, South Carolina (to support its existing laminated flooring business) is still progressing, with the start-up anticipated during the first half 2019. This expansion will allow Swiss Krono to produce 300,000m3 of HDF per year, which the company will use for laminate flooring manufacturing operations and also to sell to furniture, cabinet, fixture, door and other wood based manufacturers. Once completed, this expansion will increase Kronotex USA's Barnwell County's workforce to 275.
US rice straw plant for the summer
As an update, and building on last year's report, the CalPlant 1 (formerly CalAg) project rice straw-based MDF plant in California is becoming a reality. The project has been in planning for more than 20 years, since the principals first shipped Californiagrown rice straw to England for testing.
Since then, the endeavour experienced a series of 'almosts', until the successful financing came together, which includes US$228m of tax-exempt private activity revenue bonds, priced through the California Pollution Control Financing Authority, and US$87m in cash equity.
The project is expected to bring several environmental advantages, including water use reduction, methane emissions reduction and fungicide and chemicals reduction. Obviously it also provides a new recycling market for roughly 275,000 tons of rice straw annually. MDF is now moving on from only using wood fibre as a raw material.
Aspiring companies have sought for years to use alternative fibres to challenge the dominance of forest products in the construction industry. The newest and largest iteration of that special effort is now scheduled to come online late this summer, when this rice straw-based MDF mill, CalPlant 1, launches in Willows, California.
The plant will boast a production capacity of around 250,000m3 when fully operational. Thickness will range from 3 to 32mm and, in addition to commodity MDF, production will include ultralight and high-density fibreboard.
Some traders have expressed doubt in the past that an alternative fibre panel could compete with the breadth of applications of traditional wood based panels. Others, however, believe the latest endeavour is the first serious attempt of its kind, noting the investment, research and development and the roster of industry veterans throwing their weight behind the project.
"The over arching message related to this MDF project is that this product is going to be a high-performance MDF that will go head-to-head with wood based MDF," said Elizabeth Whalen, vice-president of sales, marketing, and sustainability for CalPlant 1.
The US$315m plant will feature a 10ft wide continuous press supplied by Germanbased manufacturer Siempelkamp.
Columbia Forest Products, a long-time backer of the CalPlant 1 project, and a minority investor, will act as the exclusive sales agent for the finished MDF products. Ms Whalen said the rice straw based panel will be marketed in a manner consistent with traditional wood based panels and that prices will be in line with the current market.
One experienced MDF veteran in the US speculated that if MDF demand grew at its current pace, the new capacity could easily be absorbed within two years.
In Canada, the MDF business and markets remained strong in 2018 and in Mexico, the positive capacity developments outlined last year are all progressing well, with important takeover news. This will be reported on in more detail later in this report.
Last year, we suggested that a value recovery for MDF across Europe was on the horizon, country-by-country, and this has certainly been seen in many cases, but not across all, due to varied economic and sociopolitical dynamics.
This year's survey once again provides listings of existing capacity in the two regions as at the end of 2018. We also show the changes expected to capacity during 2019 and beyond (Tables 1&3).
This survey continues to be published in two parts; the second part will deal with the rest of the world outside Europe and North America and will be published in the August- September 2019 issue of WBPI.
European capacity
The latest addition to our main listing is now the new Romanian plant from Yildiz Entegre, which started production in the first quarter of 2018. The plant, which is built on a 460,000m² site in the Pitesti/ Oarja region of Romania, has a production capacity of 401,000m3 and produces MDF, melamine faced MDF, laminate flooring and MDF doors.
These value-added products in the portfolio are presented on the market with the label 'Made in Europe'. Products produced in this facility, which also has a production capacity of nearly 15 million m2 of laminate flooring, and 30,000 doors per month, are to be exported to many countries in Europe and Africa.
Yildiz Entegre was awarded an acknowledgement as the largest investor in Romania for the last 10 years, with over €170m investment placed in Romania since 2009.
Austrian-based Kronospan purchased the panel producing plant at Benavente, Spain in 2016/17 and it has since been suggested that they have now closed the facility and exported some of the production equipment to Bulgaria, possibly to expand its production facilities in the northern Bulgarian city of Veliko Tarnovo. Apart from adding a particleboard line there, it will possibly start the production of MDF in the future; a product which has previously not been made in Bulgaria. More on this in next year's MDF survey.
Italy continues to be caught up in the challenges caused by changing demand trends in various sectors, the ongoing decline in furniture production locally, coupled with the construction sector's reduction in activity. However, we can report that the Fantoni SpA, Osoppo's €60m investment in Italy, has progressed well and is fully operational. The project reflects the company's long-term solid commitment to the MDF sector, both as a pioneer and as an innovator.
Also for WBPI readers to note, Paolo Fantoni, as chairman of the European Panels Federation (EPF), continues to drive a focused and really positive forward-looking agenda on MDF. Recent key highlights from Mr Fantoni and the EPF are:
E1 compulsory
The target? EPF is working to achieve emission standard E1 (<0.124mg/m3) as the minimum compulsory regulation for wood based panels in all Europe.
Why? Today, just seven of 28 Member States have an E1 requirement, meaning that E2 panels may be imported and circulate freely in most of Europe. EPF members have committed to the production of E1 panels only, since 2008. This inconsistency is inappropriate for the industry and should be made consistent to ensure panels produced and sold across the EU are on an equal footing. The EPF and its members will continue to advocate at the European level, and in Member States, a level playing field in Europe, based on meeting the E1 emission standard.
What next? ECHA has published its Annex XV restriction report for formaldehyde and formaldehyde releasers in articles. (https:// echa.europa.eu/documents/10162/13641/ rest_formaldehyde_axvreport_ en.pdf/2c798a08-591c-eed9-8180- a3c5a0362e37)
The conclusion states: "The proposal is to restrict the placing on the market, or the use of, all articles releasing formaldehyde at concentrations greater than or equal to 0.124mg/m3 in the air of a test chamber used under the conditions prescribed in EN 717-1." As this exactly matches the goals of EPF's project E1 compulsory, EPF supports this recommendation and hopes for its approval by the European Institutions.
New standard
The target? EPF seeks a single, lowemission standard "from the Pacific Ocean to the Black Sea".
Why? To arrest the proliferation of new low-emission standards across Europe. These confuse the consumer and put undue pressure on manufacturers to provide multiple product types and grades.
What next? EPF is aware of the discussions in Germany, and the desire of some regulators to set 0.5 E1 as the future minimum standard for wood based panels (and related products) in Germany, via the Chemikalien-Verbotsverordnung V. Leaving aside the question of the legality of such a step (there is an opinion that this would infringe Europe's harmonised Construction Products Regulation), there is a great fear that it would create market uncertainty and consumer confusion. Accordingly, EPF and its members currently seek an additional (voluntary) pan-European class for formaldehyde at the 0.5 E1 level, using the test method EN 717-1.
EPF for Africa
The target? As the wood based panel industry of Africa develops, EPF wishes it to look to Europe for leadership, especially on standards, products and test methods. The Federation is seeking to encourage the adoption of E1 level emission standards in Africa and is supporting the creation of wood based panel associations in Africa.
Why? EPF's analysis suggests that, in time, Africa will become a large producer of, and consumer market for, wood based panels. It is therefore of growing interest to EPF members and associate members. Thirty key industry influencers, from 10 African countries, were welcomed by EPF in Italy in 2016. Producers, traders, institutes and associations visited EPF members, the SICAM trade show, a furniture maker and the CATAS testing body as part of a concerted "EPF for Africa" initiative. Excellent connections were made.
What next? In 2018/2019, the EPF has been faced with a safeguarding investigation which threatens the sales of coated panels from Europe to Morocco. The EPF has responded actively to the investigation, showing that any increase in European sales to the country has been in line with overall market growth, and on a fair economic basis. The process continues and the EPF will continue to defend the interests of a free market and a level playing field.
From Austria, the acquisition by Egger of the Masisa plant in Concordia, Argentina, in September 2017 from the Chilean Masisa SA, has consolidated. This is the first time this wood based material manufacturer has been represented with a production site outside Europe. Headquartered in St Johann in Tirol, Austria, the company is consistently pursuing its strategy of continuing to grow on its own terms and to make itself 'future-proof' through increasing internationalisation.
Masisa Argentina's forestry activities have not been taken over by Egger, but a long-term wood supply partnership has been agreed. "We are certain that it was an opportune time to invest in South America," explained Thomas Leissing, Egger Group spokesman. In addition to the plant in Concordia, which has facilities for producing and coating particleboard and MDF, Egger also took over the retail network Masisa Placacentro in Argentina, Uruguay and Paraguay, which is run independently by 43 partners.
In France, the market remains strong and stable although it reported currently that it is hard to source very thin MDF. Kronospan has now consolidated its investments here and the privately owned Panneaux de Corrèze continues to develop its addedvalue MDF offering to the market.
In Spain and Portugal the MDF market is positive. With an updated adjustment on capacities since last year, the Intasa mill in San Saturniño has been increased to 230,000m3 while in Portugal, the Luso Finsa capacity has been re-adjusted to 240,000m3 and Valbopan at Nazaré, which continues to produce its unique and popular coloured MDF for specialised markets, has been recalibrated to 30,000m3.
Kronospan has really emerged in recent years as a powerful player in the Iberian Peninsula and now competes seriously with the long-established and locally-based groups. One of the company's goals is to increase its market quota in Spain and Portugal by 20 to 30%, while continuing to consolidate its export markets. The MDF delivered from the company's Spanish plants has destinations in over 20 countries across Africa, the near East, America and Europe. In fact, thanks to the increase of its production capacity, 50% of its production is exported abroad from the Peninsula.
In the Benelux countries and Germany, the market appears to still be strengthening, but the fact remains that we still see HDF as a substrate for laminate flooring gradually losing volume in these and some other markets, although in eastern Europe, Russia and Turkey this product is still growing in popularity.
The growth trend in flooring still appears to be with thin vinyl flooring (PVC) – also with a click system. All the major HDF flooring players in Europe are investing in this type of flooring. Mohawk (Unilin) made the biggest step, as previously reported in this respect, by taking over IVC (large in this type of flooring business) and thus becoming the biggest PVC flooring producer in the world. By doing this, it also came into the total ownership of the Spanolux MDF mill in Vielsalm, Belgium and Balterio flooring. So, at the end of this process, the Spanolux mill, capacity 300,000m3/year, is now owned by Mohawk, meaning that Unilin in France, and Spano in Belgium, operate together as one significant player in the market.
In the UK and Ireland, we see no new capacity investments from the three main MDF players: Norbord, Kronospan and MEDITE SMARTPLY and all have had strong order books.
MEDITE SMARTPLY (Coillte) continues to pioneer, develop and bring to market various new added-value products. This is particularly true with the fibre-modified MEDITE TRICOYA EXTREME Durable MDF for external use. With this product, the company is certainly making further interesting market penetration, competing in many cases with non-wood elements, particularly in the construction sector.
We can report and update readers that modified wood producer Tricoya Technologies continues construction of the first phase of the site of its new Yorkshire factory at Saltend, Hull. The wood chip manufacturing plant is being built after securing almost £60m in funding to make the project viable. The new plant is being funded, built and operated by a consortium of companies formed in 2017 including parent group Accsys Technologies, BP Ventures, BP Chemicals, MEDITE SMARTPLY, Business Growth Fund (BGF) and Volantis. The plant has also received funding from the Green Port Growth Programme and from the LIFE programme of the EU.
The initial ground-breaking ceremony was attended by representatives from the Tricoya Consortium, Hull City Council, South West Holderness Ward and the local team of Tricoya Technologies. The factory is expected to be completed in 2019 and will provide around 30 permanent jobs.
Accsys chief executive Paul Clegg has previously said that production of Tricoya wood elements had to-date been on a small scale for market development feedstock derived from Accoya wood. Now this will change. The firm has an Accoya production facility in Arnhem, in the Netherlands.
These acetylated chips are used to manufacture high-performance MDF panels. The panels exhibit outstanding durability and dimensional stability, which allow them to be used in exterior and wet area applications once limited to products such as concrete, plastic or metal. With the added benefits of light weight, sustainable raw materials and a guarantee of up to 50 years above ground and 25 years in ground, these revolutionary panels provide architects, specifiers and designers with an entirely new construction material, allowing great design flexibility and endless opportunities for creativity.
Accsys has also signed a Tricoya user licence agreement in 2018 with Finsa, to produce Tricoya modified wood based panels. Under the agreement, Finsa is granted exclusive rights for manufacturing Tricoya panels in Spain and Portugal, with non-exclusive distribution rights in other territories.
The supply of acetylated material to produce Tricoya panels by Finsa will initially be met from Accsys' Accoya plant in Arnhem and then in the form of Tricoya chips from the world's first Tricoya plant in Hull, UK, which, as mentioned, is under construction and expected to be operational in 2019.
"A partnership with Finsa – a wellestablished company with a reputation for innovation – is a great endorsement of our proprietary technologies and the Tricoya business proposition," said Paul Clegg, at Accsys.
The agreement with Spanish-based Finsa is a breakthrough for Accsys, with Finsa becoming the second producer of Tricoya panels. Ireland-based Medite Europe is of course the other existing producer.
To follow this, Tricoya Technologies has also entered into an agreement with PETRONAS Chemicals Group Berhad (PCG) to evaluate the feasibility of jointly funding, designing, building and operating an integrated acetic anhydride and Tricoya wood elements production plant in Malaysia.
It is envisaged that Tricoya wood elements produced at the plant would use acetic acid from PCG's existing joint-venture in Malaysia. The plant would then supply the wood panel industry within South-east Asia, under licence, as the key raw material for the formation of Tricoya panels for use in the construction industry in the region.
The evaluation is expected to include preliminary engineering studies, regional customer and market feasibility assessments, and financing arrangements.
Under the terms of the agreement, PCG and Tricoya Technologies have agreed to carry out the evaluation exclusively for a period of at least 18 months.
Moving on to Turkey, the progressive dynamics seem to continue strongly, although international financial issues are starting to have a negative bearing on some long-term loan arrangements. With large markets, available both domestically and into the Middle East and the former Soviet states, the growth continues. Significantly though, ongoing investments in Turkey continue with the second AGT MDF plant at Antalya now under construction and aiming for start-up in 2020.
From the Baltic states, Poland, the Czech Republic and Romania trends in furniture production were all reported to be up in 2018 – naturally, good news for demand and for the MDF sector. Homanit (Homann Holzwerkstoffe, Germany) is producing successfully at both its Krosno and Karlino sites in Poland, with each producing 250,000m3/year and, as previously mentioned, is expanding its reach within the Baltic states, with its fresh plans to invest some €115m in constructing its new MDF production facility in Lithuania.
In the Nordic region (Sweden, Norway, Denmark, Finland) there are still no production facilities for MDF, but the influence of the well-known Swedish furniture group IKEA, in terms of global design trends in the competitively-priced self-assembly sector, remains interesting. We understand that MDF will still generally be used where very high-quality core and faces allow detailed machining and high-quality finishing, but weight issues continue to dominate the company's selection of materials.
For certain components, MDF with a density of less than 500kg/m3, whilst maintaining high quality, is finding favour alongside higher density items of 700kg/ m3-plus, for special uses. Also, products produced as sandwich elements (core honeycomb with a surface of 2.5mm or less HDF) are helpful when weight issues need to be addressed in the final furniture product.
Recycling MDF at the end of use remains an important topic of research and interest in Scandinavia and elsewhere, but is still yet to be satisfactorily commercially resolved globally. However, this topic is now evolving progressively, with the interesting pioneering developments and ongoing work at MDF Recovery Ltd, in the UK. It reported recently that partnerships have now been put into place that will accelerate the development of MDF Recovery's technology, so that it is able to operate at the commercial scales demanded by the MDF manufacturing sector.
Also, we understand, MDF Recovery is seeing demand for its technology increase from all parts of the supply chain, from manufacturers wishing to mitigate their spiralling raw materials costs through to end-users in the retail, furniture and construction sectors, who are no longer willing to accept that incineration is an appropriate end-route for such a significant waste stream.
For more information on this specific topic, readers may find it interesting to view the written case study via the link below from Innovate UK Knowledge Transfer Network (KTN) Case Study, on this research and development project, that was published in April 2019 (https://www.ktn-uk. co.uk/news/support-and-funding-from-ktnand- innovate-uk-has-helped-mdfr-createa- highly-innovative-technology-to-recyclefibreboard- waste).
We would also refer you to the article written by Dr Mark Irle on this subject for WBPI.
For Russia in 2018, industry experts, including WBPI's Russia correspondent Eugene Gerden, provided helpful commentary. We have updated and include now the large MDF mill operated by Egger in Russia at Gagarin in our main listing.
We still see the new investment to the east of the Ural Mountains progressing with the MDF plant evolving for the Russian timber group Pavlovskiy DOK, part of a large wood-processing combine. Eighty per cent of Russia's wood resources can be found east of the Ural Mountains. Nevertheless, only 20% of the wood harvested in Russia comes from this region, while a highly modern wood based materials industry has established itself primarily in the west of the country. This is changing, with the construction of this innovative MDF facility by Pavlovskiy DOK, approximately 2,000km to the east of the Urals, thus opening previously unused potential. The plant is to be built not far from Novosibirsk, close to Barnaul, an administrative centre and important transport hub, and with more than 600,000 inhabitants, it is the largest city in the Altai region.
Another MDF investment is being made by Altayles, one of Russia's leading industry groups. The company announced plans to build a large-scale plant to produce MDF, to be built in the Altai Krai, one of the largest regions in Russian Siberia, bordering Kazakhstan. The capacity of the plant will exceed 200,000m3 per year. The company plans to produce high-density panels, together with fine surface boards which will be specially-designed for the Asian market. Investment in the project is estimated at six billion rubles (US$120m)
The Istanbul-based wood panel and building product manufacturer, Kastamonu Entegre, which purchased from IKEA the former Pfleiderer's planned Novgorod mill in Russia, with a design capacity of 495,000m3/year of MDF/HDF, is still, we understand, destined to be built alongside the existing 565,000m3 mill in Alabuga, in Russia's free economic zone, Republic of Tatarstan: one of Russia most economicallydeveloped regions. The company, we understand, has already entered into an engineering contract with the main technology supplier.
Also, the MDF/HDF investment at Vladimir, Russia (capacity 424,000m3) by the Turkish wood based panel and laminate flooring manufacturer Yildiz Entegre Agac Sanayi Ve Ticaret AS, headquartered in Kocaeli, continues under construction.
Russia has therefore been, for some time, the centre of attention for panel investment and development in eastern Europe, but with important political sanctions now in place, trade with Russia is somewhat restricted. While this is limiting the scope for traditional suppliers of furniture (such as Italy) to the Russian market, it is actually driving up domestic production, and demand, for furniture and raw materials in this country. This is likely to continue.
Finally to note in this country, there are rumours of possible plans by the Segezha Group , one of Russia's largest woodworking enterprises, with plywood operations at Vyatka, to invest in new MDF facilities in the future and this will be reviewed and updated further in next year's edition of this survey.
In Belarus, the Mostovdrev, Gomeldrev and Borisovdrev mills are, we understand, running well. The two new mills which were under construction – investments by Kronospan at Smorgon and state holding company Lessbumprom in Vitebskdrev (a very large company comprised of enterprises in the field of pulp and paper production) – are all also now shown in the main listing as operational.
So, looking ahead for expanded capacity in 2019 and beyond in Europe as a whole, we have: the lines mentioned in Russia (ex IKEA) Kastamonu Tatarstan (495,000m3); the Pavlovskiy DOC mill east of the Urals (350,000m3); the Antayles investment in Siberia (200,000m3) and in Vladimir – Russia (424,000m3) by the Turkish wood based panel and laminate flooring manufacturer Yildiz Entegre. Add to these the MDF investment in Turkey: AGT in Antalya (300,000m3) plus Homanit 250,000m3 in Lithuania and you have the up-to-date picture.
So the total of all-European installed capacity reached 27,614,000m3 in 2018, compared with 26,986,000m3 in 2017, with growth seen across Russia, Romania and Turkey.
Taking our main table listing from 2017, and then fine-tuning information with adjustments and corrections and with new capacity already installed in 2018, we reach a total European installed capacity of 27,614,000m3.
Most MDF mills continued to work hard to optimise their installations and looked for continual production refinements and new product developments to maximise the opportunities that existed within their individual facilities.
With the future new mills listed in Table 1, we now have a forecast figure of 29,633,000m3 as the total capacity of the European continent for 2018/19 and beyond.
North America capacity
The industry in US and Canada overall has had an improved year, with production and sales of MDF showing continued positive recovery in 2018. The industry reported virtually every MDF mill running 24/7, driven particularly in the US by the strong dynamic of the domestic housing market.
Imports into the US of Asian furniture continue and, while furniture manufacturing in North America is growing again, it appears it will be some years before it returns to turn-of-the-century levels – if it ever does.
Housing starts have been improving, the remodeling market has been strong, consumer purchases have grown, and hospitality sectors and manufacturing were generally on the up at the beginning of 2018, but things quietened down towards the end of 2018, as detailed in our OSB survey and 2019 looks less promising, for housing starts at least.
The Georgia Pacific MDF mills at Monticello and Mount Jewett continue to run well as do all formerly listed Flakeboard MDF mills in the US and Canada, now renamed Arauco North America in our listings.
The Medite MDF mill in Medford Oregon (Roseburg) has operated well under its new owners in 2018. The Medford plant is a wellrun facility and the acquisition represented a key strategic move for Roseburg in its evolving composite panel business, ahead of the Pembroke, Canada acquisition and now the recent Potlach Deltic Corp 265,000m3 MDF mill at El Dorado, Arkansas.
The investment project by Swiss Krono for the new HDF/MDF plant at its facility in South Carolina, to support its existing laminated flooring business, progresses as described earlier and should be up and running during 2019.
We have learnt that the Langboard MDF mill in Willacoochee, Georgia was upgrading elements of its production facility and as a result a further 11,000m3 has been added to its capacity in 2018 in the main listing.
Certainly, the new CalPlant 1 rice strawbased medium density fibreboard plant project in California is the most dynamic new feature for us to report on this year from the US and it will be very interesting to provide more of an overview in future issues of WBPI.
Finally, there are no other consolidation moves that we have heard about in this part of the world currently, but consolidation has certainly been a theme for the North American industry over the past three years.
Now turning our focus on Mexico, and to complete our North American overview, the three new MDF projects we highlighted last year have progressed positively, with all of them becoming fully operational in 2018.
South American wood based panel giant Arauco completed the purchase of Masisa's various Mexican panel mills in a US$245m deal, which included the MDF operation at Durango, with an annual capacity of 220,000m3. These various facilities also included three thermally fused laminate (TFL) lines, a resin plant and a veneer line.
"This action is part of our expansion plan that aims to position Arauco as a global company," said Matías Domeyko, Arauco CEO. "With this acquisition, we will be extending our presence in the North American panel market, where we see trends of continued market growth for this type of product, focusing on residential and commercial furniture and industrial markets."
In addition to its North American headquarters in Atlanta, Georgia, Arauco has 10 manufacturing facilities throughout the US and in Canada. This is the second acquisition of Masisa assets by Arauco, having previously bought two Masisa panel producing mills in Brazil.
Maintaining the theme MDF "Made in México" and with the establishment of all three MDF plants in the country, Proteak's plant in Tabasco and Masisa's (now Arauco) in Durango, along with Duraplay at Hidaigo del Parral, the process of import substitution of MDF panels in the Mexican market has continued.
Total nominal production capacity of the new MDF plants has been adjusted up to 735,000m3/year. The main incentive for these three companies, which together have invested more than US$400m in state-ofthe- art manufacturing facilities, is the very promising outlook in the Mexican market. Until recently, no continuous process plants existed in Mexico and the per capita consumption remained very low compared to most countries.
According to analysts, 90.5% of MDF consumed in Mexico was previously imported – mainly from Chile and Brazil – and as a result, logistic costs represented a significant percentage of the price paid by distributors. This in part explains why the Mexican MDF market was perceived as very under-developed in comparison to countries such as Brazil and Argentina.
Mexican apparent MDF consumption of 4.3m3 per thousand head of population was low (compared to Brazil, where apparent MDF consumption in 2013 reached 19.2 m3 per thousand head of population), an important factor when the various MDF investment decisions were being made. Also, the Mexican furniture industry has been characterised by a comparatively high use of solid wood and plywood in relation to particleboard and MDF in the past. Therefore, the opportunities towards the future increase of MDF consumption in the Mexican furniture manufacturing industry remained extremely positive.
For Duraplay de Parral, the longestablished Mexican plywood and particleboard producer, the move into MDF production with its investment in a new plant with a capacity of 235,000m3 per year, was a natural expansion. The MDF plant was installed within its manufacturing premises in the northern silver mining town of Hidalgo del Parral, Chihuahua, Mexico.
This investment is also positive news for all the relatively local wood suppliers, as this will ensure them a valid long-term sustainable harvesting commitment and a market for their forest resources.
The Mexico City-based PROTeak Uno, (Pro MDF) which specialises in plantation teak and solid wood products, established its 280,000m3/year MDF plant in Mexico's south-eastern sub-tropical Tabasco state, utilising eucalyptus wood from plantations in the south of the country.
Building the plant on a greenfield site at Huimanguillo, 67km from the state capital Villahermosa, PROTeak's co-operation agreement with Financiera Maderera SA (Finsa), the largest Spanish producer and seller of wood panels, resins, melamine and veneer, among other products, in the Iberian Peninsula, has proved beneficial. With over 80 years' experience, Finsa owns 12 plants in Europe, with 2,750 employees. The agreement includes the joint operation of PROTeak's MDF plant, technology transfer and the marketing of Finsa products in Mexico.
PROTeak succeeded in buying Forestaciones Operativas de Mexico SA de CV, (FOMEX), the national eucalyptus plantation business of Mexican industrial conglomerate Grupo Kuo, for a reported US$30m. That FOMEX deal gives PROTeak FSC-certified eucalyptus plantations in Tabasco and in the neighbouring states of Oaxacap and Veracruz. Tabasco state has a well-developed infrastructure, thanks to the dominance of the oil and gas industry, and the state's location in the Gulf of Mexico.
Looking ahead, the company intends to increase its own eucalyptus plantations to at least 15,000ha through planting and improved growth rates, over the next four to five years, which it hopes will not only secure its long-term raw material supply, but also assist in delivering its quest to become the lowest-cost producer in Mexico.
Mexican wood panel producers are now clearly driving several market development initiatives, which are gaining momentum and are at the forefront of a campaign to promote wider use of MDF by the national furniture industry.
The panel makers are still continually educating Mexico's furniture designers, and manufacturers, of the potential and versatility of working with MDF which, with its workability, is a natural substitute for traditional solid wood. These three new mills bring Mexico's total MDF production capacity up to 809,000m3/year as at end-2018 – such a significant change from the small MDF capacity of less than 80,000m3, which had been stable for such a long time previously.
Finally, total North American installed capacity for 2018, is now recorded at 5,829,000m3 building on top of 5,775,000m3 recorded for 2017.
Now, with the significant new Mexican mills listed in our tables and our work showing capacity for 2019 and beyond, we have a forecast figure of 6,379,000m3 as a total capacity for the North American area, including Mexico, for 2018/19 and beyond.
The post MDF expansion around the world continues at a fast pace appeared first on Timber Industry News.