Internationally, sawn softwood consumption is concentrated around 3 equivalent poles: Europe, Asia and North America. Demand is well oriented there. Despite the 2020 global pandemic, the latest available data also indicate an increase in global production: United States: + 3.8%, Russia: + 2.6%, Germany: + 2.6%. 
American consumption has always been based on national production and importation mainly from Canada. During the first lockdown, the closure of the Canadian (50%) and American (35%) sawmills led to a drop in availability on the US market, which came up against stronger demand than anticipated.
Combined with bad weather of rare intensity (24 hurricanes, fires, drought, cold, etc.) and unprecedented logistical difficulties linked to COVID (sick employees, etc.), delivery times have lengthened and prices have ended up fly away.
Massive recourse to imports is then activated to meet demand
The increase is not 3% or 30% but the prices have been multiplied by 3. Prices above 1000 USD / Mbf are reported. You have to go back to the period of the Spanish flu (1920) or after the Second World War to observe such a surge in prices.
In Europe, the situation is very different and despite some closures in March / April 2020, the major producing countries have maintained their production (Sweden) or even increased it (Germany, Austria, France, etc.).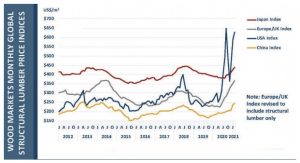 However, it must be noted that many markets in 2020 had to face delivery difficulties at certain times linked to logistical problems, COVID restrictions (traffic limitation, international traffic congestion, etc.) and the chronic weakness of stocks at importers distributors. For example, the UK reduced its imports by 22% in the first half of 2020 but over the whole of 2020 imports are up 8%, with a spectacular increase of + 95% in purchases in December due to the Brexit.
The fall in French orders during the first lockdown in March 2020 following the sudden and disorderly shutdown of construction sites also forced French sawnwood producers and their European counterparts to urgently seek other export relief markets to ensure an outlet for their productions, whether in Europe but above all on international markets such as the United States or China.
These very demanding markets continued thereafter despite the recovery in Europe, all the more so as the prices charged were much more profitable and the mechanical characteristics prevailed over the aesthetic aspect. The certification of sawnwood for the USA has even been suspended.
Despite growing European demand, Europe has thus become in a few weeks the world's leading exporter of sawn softwood.
Price levels in the United States have led to a halt in American and Canadian exports to the world market, China in particular, amplifying the demand for European sawnwood and causing a rise in tariffs at the world level.
The transport sector continues to be severely affected by delays, congestion at global ports and skyrocketing freight rates. This situation affects demand by redirecting some supplies to the premises in the hope of being delivered on time.
In terms of supply, both in Scandinavia and in Central Europe, we are already seeing an increase in the price of sawn logs. Routing and transport costs are also rising sharply due to the lack of equipment in ports or local health restrictions. So even if sawnwood production is able to meet European demand thanks to very abundant forest availability, it will take longer than usual to meet orders already taken and at the same time to rebuild a minimum stock in sawmills. .
But global flows which evolve in favor of the most attractive markets. Intra-European trade in sawn softwood is up 2% or +500,000 m3. Spain and Italy, two countries strongly affected by the Covid, have seen their imports decrease. All the other European wood-consuming countries, except France, increased their imports, including at the end of the year.
French imports, after falling 1.5% in 2019, fell 4.5% from January to November 2020. Some supplier countries such as Sweden maintained their volumes but the majority of other countries found other markets. more remunerative and above all less "picky": Germany: – 4.3%, Finland: – 9.4%, Belgium: – 8.6%, Lithuania: – 27.9%.In order to meet demand in 2020, European sawmills drew on their stocks which could not be replenished at the start of the year. Order books have grown to the point that some European sawmills no longer take orders in March.
French sawmills and processing units are working at nearly 110% of their nominal capacity (approximately double the increase in national consumption) to satisfy their historical customers and serve their new customers who are out of import supplies.
With very low stocks in all sawmills and very full order books, a revaluation of prices must be considered in the short term to restore the attractiveness of the French market. For Q4 2020, the increase in sawn softwood + 2.8% (source CEEB) against + 10.5% to 14.3% in Germany. For Q12021, the estimated increase in France is + 8% compared to + 20% in Belgium.
A reversal of the rise in prices is not envisaged in the short term, especially since a particularly harsh winter in Germany does not immediately allow an additional increase in production to be envisaged, which is already reaching historic records.
The pallet sector is not immune to the pressure of the global market
According to the European Federation of Manufacturers of Pallets and Wood Packaging (FEFPEB), further price increases in the wood pallet and packaging industry are "inevitable": the impact of the pandemic continues to affect businesses in Europe and around the world.
The industry expects sustained increases in the prices of raw materials, namely wood and steel, to put upward pressure on prices for several months.
In most countries, the market for pallets and wood packaging saw a decline in trade in 2020. But in recent weeks, with the recovery of the construction sector and other industries, demand has picked up again, creating pressure on sawn pallets.
Conclusion
The very high availability of forest worldwide, as well as the supply of sawnwood do not show signs of shortage. On the other hand, COVID has severely disrupted market supply and extended delivery times.
Global sawn softwood consumption and future demand are based on solid fundamentals (rise in construction in the USA, recovery in economic activity in Europe, growing demand in China, growth in timber market shares) and the current situation seems to continue. Supply terms should remain tight throughout the first half of 2021 to gradually stabilize during the second half of the year but at revalued price levels.
The post Global demand for European sawn softwood sees sharp rise appeared first on Timber Industry News.