Total EU27 (i.e. excluding the UK) import value of tropical wood and wood furniture products was US$2.48 billion between January and October last year, 12% less than in 2019.
This is a significantly higher level of import than forecast earlier in the year when the first waves of the COVID-19 pandemic hit the continent leading to widespread lockdowns with severe implications for the EU27 economy and on the supply side in tropical countries.
However, with the onset of a second wave of the virus, and signs that the EU27 is now experiencing a double dip recession, trade may be receding once again.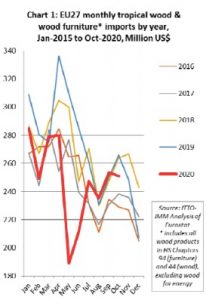 Chart 1, which shows the value of EU27 imports of tropical wood and wood furniture products each month during the last five years, highlights that while imports fell sharply in May last year there was a very strong rebound in June and July. Although imports declined again in August, they were at a five year high for that month (which is typically very slow during the European summer vacation period), and then recovered well in September.
With the easing of lockdown measures from May onwards and boosted by the introduction of large government stimulus measures, the economy picked up across the EU27 in the third quarter.
According to Eurostat, seasonally adjusted GDP in the EU27 increased by 11.5% during the three month period.
The rebound was almost sufficient to offset the 11.3% decline in EU27 GDP in the second quarter of 2020.
During this period, EU27 imports were given a boost by the relative strength of the euro on international exchange markets, the euro-dollar rate rising sharply from a low of 1.06 in March to 1.22 by the end of the year.
The dollar's weakness is due to political uncertainty during and after the presidential elections and the continuing severity of the pandemic in the United States.
The post EU tropical timber trade faces recession appeared first on Timber Industry News.