International log prices are at record levels due to strong demand from China as other supply lines dry up. But the high in-market prices in New Zealand are being offset by expensive shipping, meaning returns at the wharf-gate have only increased slightly.
Domestic demand in New Zealand remains strong but some mills are struggling to run at a profit. Most don't compete directly for logs as mills typically source high-grade pruned logs, while unpruned logs are exported. However, export prices do underpin the price that mills need to pay for logs.
Supply differs by region, with some regions having few pruned logs available where forest owners have elected to focus on export markets rather than producing a higherquality log.
High overseas prices eroded by shipping costs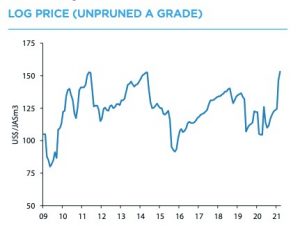 Returns at the wharf gate level for New Zealand export-grade logs have lifted marginally. In-market prices are now at record highs but extremely high shipping prices mean little extra return to NZ exporters.
The cost of moving logs from New Zealand to China and Korea, NZ's main markets, has doubled over the past year. It now costs as much as USD50/JASm³ to move logs to Asia, which accounts for about a third of the value of the product. A year ago shipping costs were closer to 20% of the total value.
So far, the higher shipping costs are being absorbed by the importers, meaning returns at the wharf-gate level in NZ haven't changed a lot. The lift in shipping costs is being driven by the general congestion in global shipping, which means it is taking longer for ships to get loaded and unloaded.
Container ships are particularly in short supply, but the port congestion also impacts other types of ships, and some cargo that was previous moved in containers is now being moved as break-bulk cargo. This is cargo that is packaged (on pallets etc) but has to be loaded individually into the ship's hull. In recent years this type of product has generally been moved in containers to reduce handling requirements. However, now that containers are in short supply, at least in the places they are needed, more cargo is being moved as break-bulk, which competes with logs for space on ships.
Shipping costs are expected to remain elevated for months to come, so it is fortunate that demand, particularly from China, is currently strong enough to absorb these additional costs.
One of the reasons demand remains robust is the fact that Chinese importers have limited choices as to where they can source logs.
It looks like China won't be opening its market to Australian logs any time soon. China started rejecting Australian logs in November after it was reported live pests were found in the logs.
Australian authorities dispute this claim, but it appears dialogue between the two countries is virtually non-existent. This has led to speculation that it may be years before Australian logs are able to be exported to China again. Prior to the ban 90% of the logs exported from Australia headed to China.
Australia is now relying on exporting more logs to India and supplying its own domestic market, where needs are growing. But production of logs has slowed in Australia as a result of the export ban, although more logs are being chipped as they are still able to be exported to China in this form.
There has also been a major reduction in the volume of logs being supplied to China by Russia. Russia has imposed a ban on the export of logs as a way to boost its own timber-processing industry. Exports of timber relative to logs were already increasing ahead of the ban.
This time last year Russia was supplying about 13% of the logs imported by China, while Australia was supplying 9%. New Zealand and Europe are the largest suppliers of logs to China each, roughly accounting for about a third of the supply. New Zealand's share has been quite steady in recent years while additional supply from Eastern Europe has offset the reduction in supply from elsewhere.
In the past couple of years there have also been more logs supplied to China from South America – particularly Uruguay – but this trade only makes sense when log prices are high due to the higher cost of shipping.
The post New Zealand log export prices face high shipping costs, despite booming China demand appeared first on Timber Industry News.