Pallet prices have hit record highs, according to a U.S. Labor Department index, and European gauges show big jumps from the U.K. to Germany.
The market may stay hot through the peak construction season in the springtime and as COVID-19 vaccines help revive restaurants and event venues — adding to inflationary pressures rippling across supply chains.
"Supply is just barely keeping up with demand," said Howe Wallace, chairman and CEO of PalletOne Inc., a Bartow, Fla.-based producer with facilities across the Southeast. "It's a pretty dicey situation."
At Virginia Tech's Center for Packaging and Unit Load Design, the nation's foremost pallet laboratory, "the companies we work with, every single one of them, said they've had their best year," said Associate Professor Laszlo Horvath, the center's director.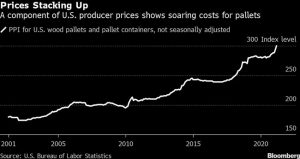 Pallets serve as the base of a so-called unit load, a standard way to ship products so they're easy to move with forklifts and jacks. They are generally bought or leased by product makers and get baked into transport packaging costs. When a retailer or other end user is finished with pallets, recycling companies collect, repair and resell them. Some industries like bottling companies manage their own pallet pools.
There are roughly 5 billion pallets in use worldwide, and an estimated 2 billion in the U.S. alone — enough to go two-thirds of the way to the moon if stacked on top of each other. About 90% are wooden and the rest are made of plastic, metal or cardboard. Each year, some 513 million new wood ones are built in the U.S. and another 326 million are repaired and put back in circulation, according to Horvath.
Depending on the region, the usual price tag of $9 to $12 per wooden pallet may approach $15 this year. On April 9, U.S. government data showed the wood-pallet component of the producer price index jumped in March by the most since 1993.
"New pallets, used pallets, rental pallets — they're all raising their prices," said Chaille Brindley, editor and publisher of Pallet Enterprise magazine and Pallet Profile, a market report.
Pallets are made with a lower grade of hardwood and softwood than the timber used for construction and furniture. In the mid-Atlantic region, the price of pallet-grade hardwood rose to $635 per 1,000 board feet in March from $530 a year earlier, and a Southern California softwood more than doubled, to $520. Meanwhile, nail prices gained between November and March along with a 36% jump in the cost of wire rod, Brindley said.
The post Global wooden pallet prices hit record highs appeared first on Timber Industry News.