The stumpage prices of roundwood in Finland continued to rise in June. Pine logs fetched an average of EUR 65.2, and spruce logs EUR 68.8 per cubic metre in standing sales. The price level of softwood logs was about one per cent higher than in May.
The previous peak in stumpage prices for softwood logs was in December 2018. The real price of softwood logs in June 2021 was approximately one euro more expensive than then.
The standing sale price was EUR 19.9 per cubic metre for pine pulpwood, EUR 22.4 for spruce pulpwood and 18.8 for birch pulpwood. The average price level of pulpwood increased by two per cent from the previous month.
In roadside transactions, the average unit price for pine pulpwood was EUR 32.7, for spruce pulpwood EUR 33.3, and for birch pulpwood EUR 32.6 per cubic metre. Delivery sales are dominated by pulpwood.
Trade of roundwood in non-industrial Finnish private forests continued to be exceptionally active in June, with 8.2 million cubic metres of roundwood purchased by the forest industry. This was the largest amount of roundwood ever recorded in the roundwood trade statistics during one month.
The volume of roundwood trade during the first half of the year was 57 percent higher than a year earlier. Large monthly variation is typical for roundwood trade volumes. They vary more on a monthly basis than felling volumes.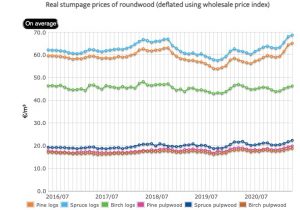 The post Finnish roundwood prices continue to rise in June appeared first on Timber Industry News.