Back in October 2020, The European Union launched an anti-dumping procedure for the import of birch plywood from Russia. Now the European Commission has established provisional anti-dumping duties ranging from 15.0 to 17.2%.
The complaint was brought by the Woodstock Consortium acting on behalf of the Union producers of birch plywood representing an overwhelming majority (59%) of the total EU production of the product concerned. The complaint noticed very high levels of dumping, ranging from 23% to 84%.
According to the EU Complainants, non-imposition of anti-dumping measures against imports from Russia will continue to cause material injury to the Union industry of birch plywood and that the very existence of the Union industry of birch plywood is therefore at stake. At the same time, the objective of anti-dumping measures is to level the playing field and their imposition should not therefore prevent imports from Russia entering the EU. This, in its turn, will have minimal if any impact on the downstream industry's costs.
It is noted that the Union industry of birch plywood is suffering the material injury which is caused by the dumped imports from Russia. Such injury is a clear consequence of both the continuously increasing import volumes from Russia which reached an all-time high in 2019 and during the IP, and extremely low import prices which reached record low levels in the most recent past. Such pressure from imports from Russia forced the EU producers of birch plywood to lower their prices in order to remain competitive and spare the EU mills from idling. As a result of such price suppression due to dumped imports from Russia the Union industry's production and sales decreased significantly, leading to plummeting profitability and employment losses of more than 1.400 workers between 2017 and the IP, according to the complaint.
Provisional anti-dumping duty
According to the European Commission, the rates of the provisional anti-dumping duty expressed on the CIF Union border price, customs duty unpaid, shall be as follows: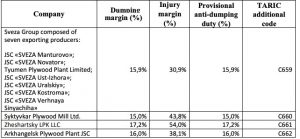 The post EU Commission sets provisional anti-dumping duties on Russian birch plywood appeared first on Timber Industry News.