China imported approximately 4.13 million m3 of softwood lumber during January-March 2021. This means a reduction with 20% compared to the same period during 2020.
At the same time residential buildings projects with a total floor space of 362 million m2 were started which means an increase by impressive 30%.
A rapid increase in housing starts and a lower import of softwood lumber have reduced Chinese stocks of lumber to a very low level.
With a high demand in Europe and U.S. we'll no doubt see a strong market for lumber.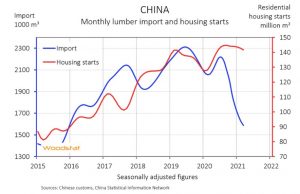 The post China's softwood lumber imports fall sharply, inventories low appeared first on Timber Industry News.